I checked my facebook this afternoon and noticed a friends message saying that there is now an English Pirate language for your facebook page. Sure enough you can scroll right down to the bottom and click on whichever language you have yours on and change it to English (Pirate) beta! How cool is that? SO cool if you ask me me hearties! It says all sorts of ridiculous things like.....
Me Hearties
Bottle o' Messages0
Abandon Ship
Make yer mark · Arrr, This be pleasin' to me eye.Care not fer such trifles
Ahoy There!!
Peer into the depths
1 sorry lout thinks they're yer mate!
flapped gums 'bout yours recent Tales
What be troublin' ye?
If you have a facebook page and have a few minutes just give it a try and see how happy something this stupid and silly can make you feel. It really made my day for no good reason at all other than I like talking like a pirate.
-----------------------------------------------------------------------------------------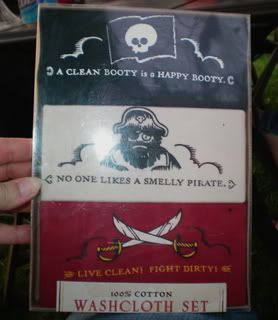 Speaking of pirates, my son Braden got these adorable pirate washcloths from
Wry Baby
for the tub from his Grandma Kuhr. It will match perfectly his Backyardagans Pirate Ship for a bath time of arggghhhh's from me little's ones booties ;)~
This adorable ship is on $13.46 at
walmart.com
.
You can get this set of the washcloths for yourself or your little ones at the
World Market.com
.
Th' wench Liz is off to peer into the depths for some treasure chest!