I know with the end of summer and the start of school I took some time off of my Friday Favorites, but today it is back! I was inspired by the Fall like weather here and all the babies I keep seeing being born. With that in mind this weeks is Halloween Babies themed!
All of my Friday Favorites are from
Etsy
this week. Just in case your new to
Etsy
it is a website based on handmade and vintage items from all over the world. If you need it you can buy it there! Now please take a minute to click on the links and browse these wonderful Etsy shops. I love this weeks picks and I hope you do to!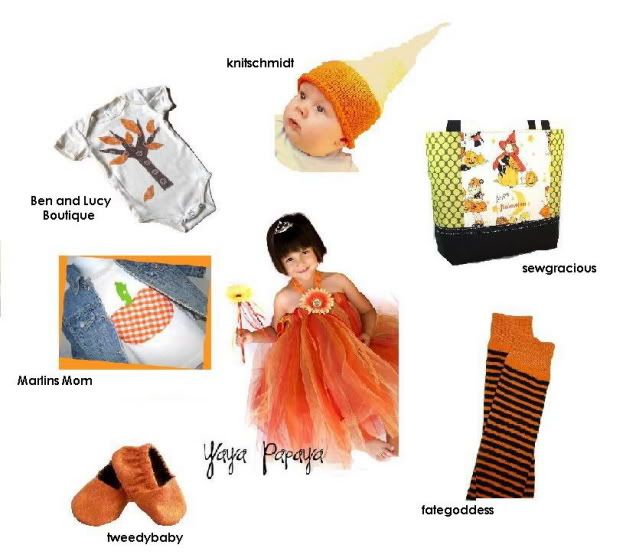 1.
FRESHLY FALLEN Organic Onesie
by:
Ben and Lucy Boutique
Ben & Lucy is a small funky company offering up handmade hipness for unique little individuals. This onesize caught my eye because you could wear it all Season and get a good amount of use out of it.... Plus it is Adorable!!! You can find onesies, bib clips, ponytail holders, and more in their shop!
2.
Happy Wholloween Hat
by:
knitschmidt
This really was what put me in the Halloween mood this past week! I saw this hat and instantly had a Dr. Suess and Halloween flash back to my younger years. I would have loved to have a hat like that back then! Knitschmidt's shop is filled with fun knitted hats and such that you should check out.
3.
Retro Kids Trick or Treat Market Tote Handbag
by:
sewgracious
This tote could be used all Season for Mom or for Trick or Treating! Take this beautiful tote to the grocery store, or just to lug around all your kids junk when you are out and about on the town! Sewing Grace's Shop is filled with the most beautiful handbags, totes, wristlets, wallets, key chains, etc. She uses fun fabrics too.
4.
Crawler Covers Baby Toddler Leg Warmers
by:
fategoddess
These seem to me to be a must have for this upcoming colder weather. These will keep your little one in style as well as keep them warm. She has over 400 styles of leg warmers available in her store, so there is bound to be something that fits you and your child's style!
5.
Sun-kissed Halter Tutu Dress
by:
yayapapaya
What little girl wouldn't love to wear this for a Halloween costume and probably for dress ups every day after that for months! This Sun-kissed tutu is made out of orange, yellow and red tulle with lots of colorful ribbon. Their tutus are beautifully hand crafted and just gorgeous. All the tutus are so sweet and even if you don't have kids you should go on over and browse because it will bring out the little girl in all of you.
6.
Orange Cashmere Booties
by:
tweedybaby
These super sweet little booties are made from an orange pashmina shawl and lined in black cotton. They are extremely soft which I think is a great thing for all kids to have something comfy and soft to wear. Tweedybaby has bibs, burp cloths, toddler dresses, booties, and lots of fun things for you little one.
7.
Custom Pumpkin Halloween Shirt
by:
marlinsmom
Do you have a school aged or preschooler around? This is just the right thing to put them in when sending them out to school! It's festive without being to over done. It will put our kids in the holiday spirit. Maybe you can even go to the pumpkin patch in this shirt. Marilinsmom has beautiful pillowcase dresses, appliques, and totes.
Stop by next week for more beautiful Friday Favorites!
If you missed any of the past few weeks Friday Favorites you can take a look at it here....
Fabulous
August 15th 2008 ~Autumn is Near~
August 8th 2008 Cherries