I was on my way to work on Sunday to cover for a coworker who was off and it started to rain. No big deal, right? I had looked at weatherbug before I left and it had just a tiny spot on the radar. Nothing to worry about. Then the rain got so hard I could barely see and the more I drove the more the rain piled up. On my first stop (I fill vending machines) I got out of the car in my rain coat and ran inside. There was no electricity and I was already soaked. "OK" I thought and then on to the next stop. I then realized I needed gas. I found a gas station and got out to pump gas. The rain and wind were sideways by then. I got back in the car and the rain had soaked through my raincoat, my sweatshirt, my t-shirt, my jeans, and yes my undies too! I went to my next stop and filled everything just fine. Except I realized I could not keep my pants up because they were so wet and heavy they kept slipping down. I knew I would have to stop by the house to get some dry clothes. This is when I remembered I had my camera in my purse and I took a few pictures of my trip back home and then back to work in the flash flood that I was unprepared for.....I am a girl scout and I know to keep a change of clothes for the kids in the car, but maybe I should keep some for me too. lol I hope you enjoy the pictures better than I did the drive. I have never been in a flash flood before and I hope never to be in one again!
The best part was seeing two 40yr old guys swimming in their driveways.....
This is the highway underpass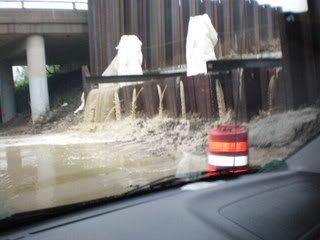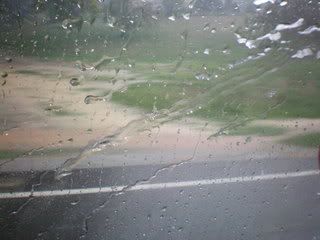 A mud river down the other side of the road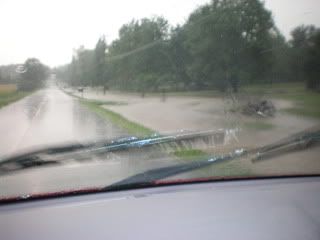 The sun did finally come out!
on another note:




Blog FEATURES


When I got home I got two wonderful emails letting me know I was being featured in blogs....



Feature 1:


I wanted to thank Katie from GiftsEtc for featuring my Poop stuff on her Top 16...Poop Items!! Check it out on her blog! It is my pink poo poo bib and my pile of crap pincushion. All of which are available in my etsy shop CherryLaneJane




Feature:2


I also wanted to thank Sharon from splashesofcolor for featuring my bibs on her blogWonderful World of Etsy. Stop by and comment on her fabulous blog.