I have been feeling a bit ragged this week and whenever I get asked "How are you today" I have been answering "Fabulous!". Not because I am or feel like it, but because if I say it enough it must come true sooner or later right? Well when planning this weeks
Friday Favorites
I had fabulous in mind. Things that no matter what would make me feel fabulous if I bought and used or wore them. These are what would make me feel fabulous this week. I hope you enjoy!
All of my Friday Favorites are from
Etsy
this week. Just in case your new to
Etsy
it is a website based on handmade and vintage items from all over the world. If you need it you can buy it there! Now please take a minute to click on the links and browse these wonderful Etsy shops. I love this weeks picks and I hope you do to!
Hugs,Liz:)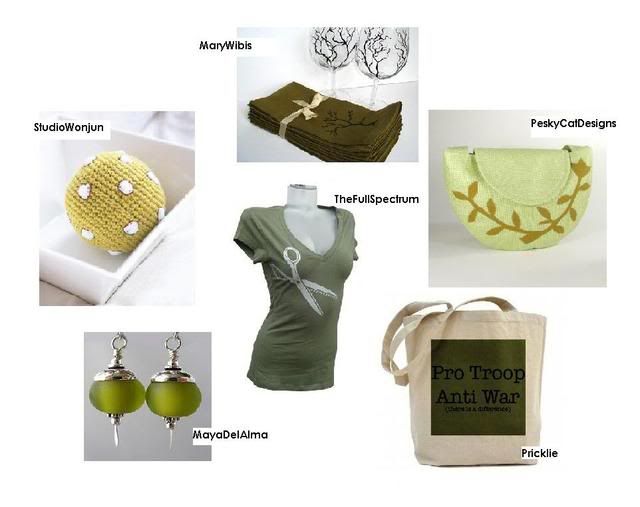 1.
The Little Tomato, crocheted lavender balls
by:
Studio Wonjun
This fabulous amigurami ball is such a soothing color and is filled with soothing dried lavender. It's safe for babies and is also a wonderful thing to add to your home decor. Just imagine a few of these placed in a bowl in your living room. With each squeeze you get a fresh burst of lavender.
2.
Avocado silkscreened napkins
by:
MaryWibis
I am a huge fan a nature themed items and of green so this set of 6 silkscreen printed napkins caught my eye immediately. Each is hand printed which makes all of them unique. Plus you can throw these in the washing machine. To top it off you can also get yourself a set of stemware to match your fabulous napkins.
3.
The Semi-Circle Purse
by:
PeskyCatDesigns
This is just fabulous! When I saw it I thought it was such a fresh new shape for a purse. Plus it is in a soft green color with a simple leaf design. What more can I ask for? It also has inside pockets, a paisley print inside, magnetic closure, and is interfaced for durability. You must go check out this shop!
4.
Pro Troop Reusable Shopping Bag
by:
Pricklie
I really love the reusable grocery totes and this one takes the words right out of my mouth! I certainly Don't like war, but I surely DO LOVE our troops and I support the men and woman in our armed forces. It is always fun to make a statement when you go out and this way you can do it without having to wear it on a shirt. Plus your saving this fabulous planet from nasty plastic baggies. Pricklie has lots of choices to choose from so make sure you check them out.
5.
v-neck pinking shears tee
by:
The Full Spectrum
For all those crafting Etsians out there this is the craft shirt for you. Show off your passion in a sleek stylish v-neck silkscreened Tee. You can also buy an extra one to use as your actual crafting shirt. Although I would hate to get glue or something on it and ruin this fabulous shirt. Head on over and pick up one today!
6.
VELVET GLOW EARRINGS
by:
Maya Del Alma
These earrings really do look like they are almost glowing. Made with warm etched green flameworked beads. These beauties measure 1" down from the post. Which is a perfect dangling size if you ask me. If you just happened to not be into green as much as I am she does make these in a myriad of other fabulous colors.
Stop by next week for more beautiful Friday Favorites!
If you missed last weeks you can take a look at it here....
August 15th 2008 ~Autumn is Near~
August 8th 2008 Cherries